In one of the most uncertain summers the event industry has ever experienced, events are still taking place, albeit a little more under the radar than usual. TSNN talked with two event organizers — one from a prestigious student basketball tournament and one from the East Coast's largest consumer pet show — to learn why and how they carried on, and how they made each event not only possible but also successful.
Game Time for Tournament of Champions
The Tournament of Champions and associated events are considered to be among the most competitive and prestigious interscholastic and club tournaments in the world for student-athletes. With the Summer Sessions basketball competition planned for July in Chicago, TOC officials initially questioned whether the games would be able to go on amidst the ongoing pandemic. Moving the event to Indianapolis and adding two additional days to the previously planned four, they decided to move forward.
"We ultimately decided to proceed with our event because the demand was still very present and we knew that our team, in conjunction with the health department, Visit Indy and the Indiana Convention Center, would be able to provide a safe place for the girls to play," says Amanda M. Ewing, director of operations for TOC. (See more on how Indianapolis held live events this summer here.)
Sports tournaments are already happening in most states, even during the pandemic, she adds. "We were providing the safest environment possible for these girls, who depend on our high-profile tournament for college recruiting purposes."
The event took place as planned and was very well-attended, according to Ewing. In a typical year, they have around 80 courts and 30,000 people in attendance. To keep the tournament as safe as possible this year, they cut the number of courts to 22 (two per exhibit hall) and spaced everything out tremendously. About 10,000 people attended, a fact that Ewing says enabled hotels that had been shut down for four months to finally reopen their doors. Afterward, they left the event setup in place for other tournaments to use. "This kept the city going for all of July and most of August – just basketball," says Ewing.
Here are some of the procedures they established to help create a safe environment:
Created individual rooms within the convention center to be able to limit attendance in each room and also track who was in which space at any given point in time
Scheduled times for groups to arrive and depart so there were never too many people in the hallways or crowded at entrances/exits at a given time
Installed barricades down the center of the hallways outside the exhibit hall and signage to keep traffic always flowing in the same direction
A recorded message playing on loop at ICC every 5 minutes stating that people can only enter 10 minutes prior to their scheduled time and must depart immediately after their scheduled time, keep masks on at all times, and follow the one-way direction of traffic in the hallways
Put up tons of directional signage, COVID-19 warnings/restrictions at all entrances, and one-way entrance/exit signage for each exhibit hall
Staff manning the entrance to each hall with iPads to keep track of how many people were in each room (noting entering and exiting in real-time) at a given time
No on-site food or concessions (which benefited local restaurants)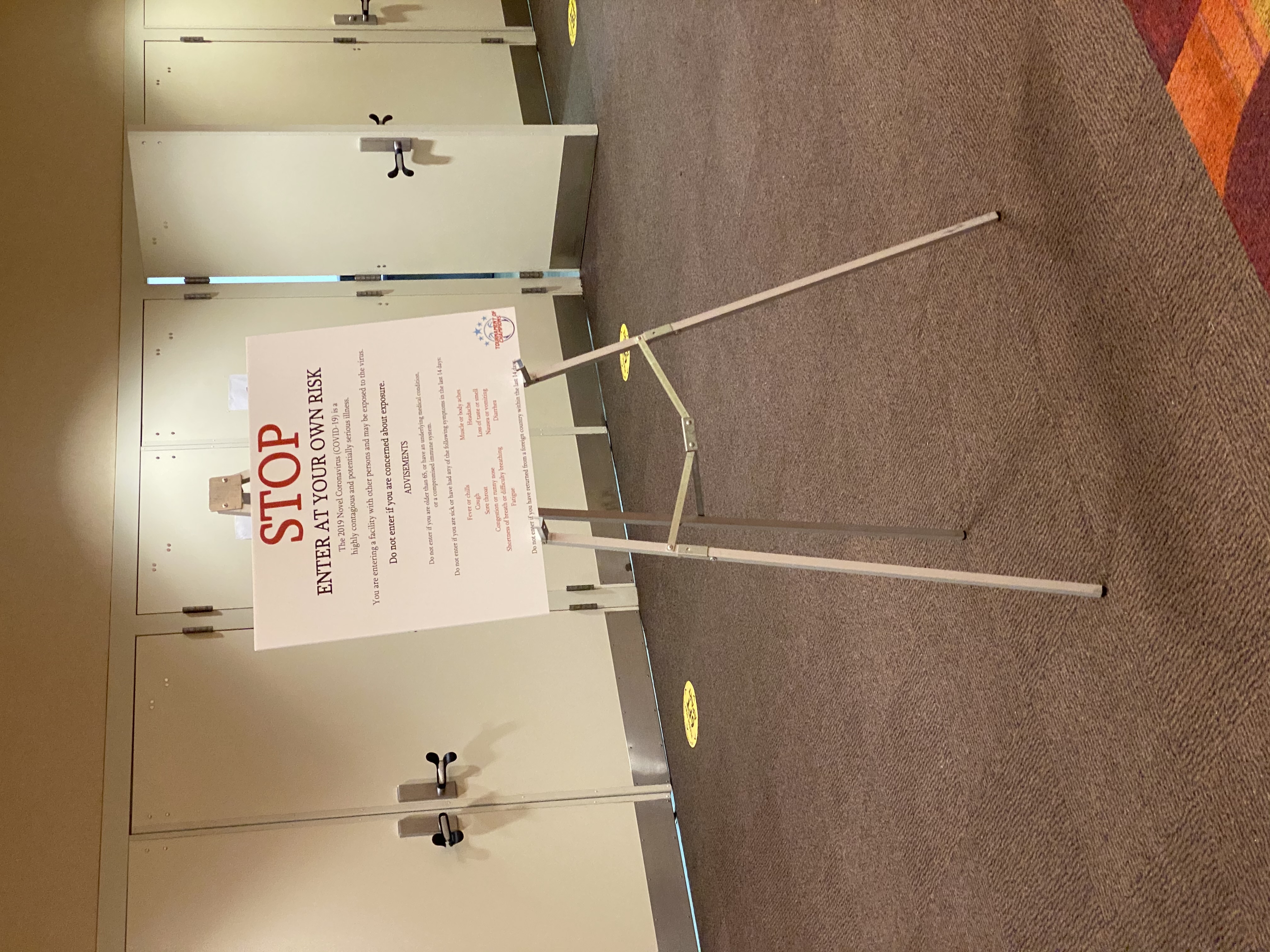 Though the event was considered a success by all involved, Ewing says executing it safely was by far the biggest challenge she's had in her career.
Ten days out from the event, she found out that they would have to pull all of the airwalls and create rooms, changing the floor plan completely and all of their security, as well as all of the communication and information already sent to attendees. On-site, it was all-hands-on-deck the entire time. "There was no sitting down to eat or jumping on the computer for a few minutes," Ewing says.
"My biggest suggestion to anyone thinking about holding an event during this time," she continues, "is to partner closely with your convention center team and the local health department in that city. The health department will inform you first when updates come through so that you can make quick adjustments and your convention center team will have your back since they need the business."
It's okay to be afraid, Ewing says, but if we don't work together as an industry to get events started back up now, this is going to drag out for a lot longer than it needs to.
"It is scary to [hold an event] and it's risky, but if you're willing to take the risk, be flexible and partner with people who are invested in the success of your event, too (i.e., the convention center, CVB, hotels, etc.) it will be a success," Ewing says. "The demand is there — people are just waiting for leaders to take the leap and launch our industry again."
Third Time's a Charm for Super Pet Expo
Super Pet Expo, the East Coast's largest annual consumer show and entertainment event for pet lovers and retailers, canceled just eight days prior to opening March 20–22 at the Dulles Expo Center in Chantilly, Va. The show quickly rescheduled for June 12-14, but when Virginia Governor Ralph Northam issued a statewide stay-at-home order through June 10, Super Pet was forced to postpone again – this time to Aug. 28-30.
Determined to carry out the event as planned for that third set of dates, Show Producer Eric Udler says that he and his team spent a lot of pre-event time informing attendees and exhibitors about what to expect at the show, including extensive health and safety measures.
"We followed guidelines established by the Commonwealth of Virginia, the CDC, and the Fairfax County Health Department," Udler says, "but it was the Dulles Expo Center team that really helped us and guided us — they did a masterful job of implementing a safe plan for everyone that stepped inside the hall."
Efforts at the venue included 14-17-foot-wide aisles (as opposed to the standard 8-10 feet), plentiful signage around the building advising attendees to follow the show's mask mandate, 6-foot outdoor and 10-foot indoor social distancing requirements, frequent cleanings, and reduced hall capacity. In addition, all show and expo staff and exhibitors were required to have temperature checks each morning of the show.
Despite the challenging circumstances, the show moved forward successfully – an effort greatly lauded by the local and small mom and pop companies that comprise the majority of the show's exhibitor base, which numbers around 200 booths during normal times, Udler says.
"All of them were eager to 'do business' and make sales," Udler says. "This was the first show they had participated in since March and they were grateful and happy to ring their cash registers even though the attendance was down."
Udler adds that while the show's exhibit space had dropped 43 percent compared to the previous year, with attendance nowhere near the pre-COVID levels of approximately 18,000 attendees, the event still attracted a qualified buying group of pet owners eager to shop for new pet products.
"We know safe shows can be produced — we proved it," Udler says. "Now we need to get the word out to the entire events industry to practice being safe. It is a lot of preparation but the end result is a win-win for exhibitors, attendees, show producers, [vendors and suppliers]."
Super Pet Expo will return Feb. 12-14, 2021, to New Jersey Convention and Exposition Center in Edison and to the Dulles Expo Center March 19-21, 2021.
Written by
September 11, 2020